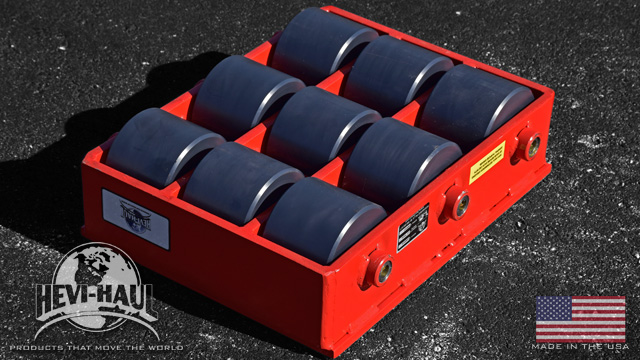 22 tons of capacity per roller dolly over nine five inch diameter nylon rollers. The axles are manufactured out of stainless steel, per customer requirements, in an environment where the Skate rollers will come into contact with water. The top of the skate has a flat top with a custom drilled and tapped hole pattern in twelve places for mounting to the loads they move.
Technical Specifications
Serial Number » 36953
Capacity » 22 Tons Each
Roller Material » Nylon with Sealed Bearings
Axles » CNC Machined Stainless Steel with Grease Fittings
Deck » Closed top with 12x 3/8-16 UNC Threaded Mounting Holes
Length » 19″
Width » 15-1/2″
Height » 6″
Weight » 145 lbs.
Paint » Hevi-Haul Red