Floors & Moving Heavy Objects: Which Rollers Work Best?
Homeowners love to make a statement with their floors. Whether your foyer features reclaimed barn wood or Calacatta marble, chances are you have an emotional connection to this pricy home item that puts your personal stamp on your home. At Hevi-Haul, we understand your labor of love and when it comes to moving heavy furniture or other items, we have rollers designed specifically for your needs.
Milwaukee Homeowners Have Two Choices: Steel or Polyurethane
Let's talk polyurethane first. For many homeowners looking to protect their floors, polyurethane rollers will be the Hevi-Haul wheels you need. There are three main reasons polyurethane may be your best choice:
You are looking for maximum protection for your floors. You've invested in your flooring, so utilize a moving solution that will leave them the way they found them.
When you have an epoxy-coated floor. Polyurethane wheels are the ideal choice to minimize any marring or marking up of your floors.
They are quieter. If using rollers in a residential setting, such as an assisted living facility, minimizing the overall disruption by reducing the noise will be greatly appreciated by staff and other residents.
Though polyurethane rollers are our most protective rollers, there are times when steel rollers will be your heavy-move rollers:
They excel with floors that aren't in the best shape including floors that have gaps, unevenness or cracks. They are our best wheels for all-purpose moving with conventional flooring, such as a loft space with concrete floors.
Steel rollers are the most cost-effective solution.
They have the highest weight capacities and hold up well in a variety of conditions. They

can handle very heavy loads with ease, and for sustained amounts of time. Does your piano need to sit on that mover skate for a bit before it gets settled in its new home? Steel is your go-to roller material!
Our Hevi-Haul skates accommodate both types of rollers. So if you purchase Hevi-Haul skates with steel rollers, you can always switch them out for polyurethane rollers, or vice versa.
Hevi-Haul: For All Your Moving Heaving Objects Needs
Professional moving companies, as well as your friends and neighbors in the Wisconsin area, have been trusting Hevi-Haul for high quality, fully-welded steel frame skates and structural dolly parts since the 1970s. (Though our original skates were first produced in 1938 under the name Skid-Rol Dollies.)
We've been making products that literally move the world for decades. Contact us today to learn how we can rock your move with our heavy item moving solutions.
Three Important Things to Consider When Moving A Log Cabin
Last spring residents of Wauwatosa lined up to see a historic log cabin roll down North Avenue as the structure moved to its new location. The cabin is historically known as the Frederick D Underwood Log House. Frederic Underwood 1921, a wealthy real estate mogul and president of the Erie Railroad, designed the house.
Being replaced by a three-story apartment building, preserving or demolishing the log cabin had been a topic of much debate in the community.
Thankfully, the developer agreed to donate the log cabin rather than knock it down. The matter was eventually settled when Galbraith Carnahan Architects, a local business, decided to use the log cabin as office space. So, plans for moving the structure began.
Many factors come in to play when moving a building of this size, including:
1) Dumping Unnecessary or Dated Items.
To lighten the load, the new owners removed:
Dated paneling

Carpeting

Ceiling tiles

Old plaster

Other unnecessary components
2) Potential Challenges of Moving a Log Cabin
Moving a log cabin isn't as easy as simply picking a new location and calling it home. Log homes may be easier to move due to their lightweight materials. However, wood is prone to wear and tear, and there can be weak points if there is termite or water damage.
Cracks which are called "checks," can form in the center of the logs and extend to the outer surface. If they become too big, the wood can become susceptible to rot.
3) How the Cabin is Set on its Foundation.
If the cabin is built into the ground, rather than on a platform, it may be too structurally embedded to preserve the integrity of the structure.
Structural Mover Skates by Hevi-Haul Will Get Your Cabin Ready to Roll
House & building skates, professionally known by structural movers as X,Y Skates, allow a mover to move a house or building in any direction on either axis. They are versatile and can be split into two halves for single-axis moving which doubles the standard load rating.
Moving Companies Trust Hevi-Haul for Quality
Family-owned and operated, ­moving companies both big and small trust Hevi-Haul to manufacture and deliver the highest quality skates available. We believe in being responsible members of the community and earning our customers' trust. Learn more about the best structure moving equipment in the industry, or contact us today with any questions you may have.
Moving your home, office or warehouse can be hard. What makes it even harder? Having to move your things during the peak of the summer heat. Here are some tips to make sure your family and crew are safe in the sun.
1. Assemble Your Moving Team Ahead of Time
Would you want to move heavy items last minute in the middle of July? Probably not. It's always smartest to book your team of movers at least two months in advance, otherwise, it might be too late. Not having any help from a professional moving team when your office lease is over means your staff will have to do it themselves. They won't be happy; you won't be happy.  Scheduling and planning all this in advance ensures you'll have people there to help you when you need them.
2. Always Stay Hydrated in the Summer Heat
Hydration is key to a successful and comfortable move. Dehydration is not just uncomfortable, it can lead to mental and physical fatigue and end up being a safety problem if not addressed. Make sure you have plenty of chilled water bottles at Point A and Point B so that everyone can be sure to drink enough of it. Not to mention, you'll probably work up a sweat when it's hot outside, which increases the speed at which you become dehydrated. Your family or moving crew will thank you for understanding how difficult working in the hot sun can be.
3. Protect Sensitive Items from Heat Damage
You may not know this, but there are a lot of items that can become damaged in an over-heated moving truck. Things like desktops computers, TVs, laptops, etc can break permanently if left in the direct heat. Laptops probably have loads of personal and professional documents saved on them. It's smart to back them up before the move. Additionally, you'll probably want to make separate plans for valuable items like these so they go from the old spot to the new one as quick as possible.
4. Dress According to the Summer Weather
This may sound like a given, but inappropriate attire can be a major cause for discomfort or even harm in excessive heat. Always remind your family and/or employees that on moving days they should wear light, breathable clothes and a pair of comfortable shoes, preferably some with solid protection. Sandals are comfy, but not ideal for moving desks or file cabinets.
5. Blast the A/C at the Old and New Location
Being outside for a few minutes can be hard enough. Trying to move into a hot, stuffy house can be worse than direct sunlight. Even if it's just for the day, drop that A/C down so people have a chance to cool off when they're going back and forth. Having a lot of fans going keeps the air moving too, which can make a huge difference, at least in how hot it feels inside.
Overall, moving in summer is tough. Moving companies are probably at their busiest, so be sure to book them well in advance. In addition, stay hydrated and dress according to the weather for the day. And don't forget air conditioning is your friend when your moving in extreme temperatures.
If you've got some seriously heavy things to move this summer, these tips might not be enough to get the job done right. Hevi-Haul has industrial strength dollies to move even the heaviest things in your warehouse, office, or home.
Contact us today or head to our website to see our catalog of products that move the world!
Most construction workers or manufacturers are familiar with rigging companies. However, many others don't know what their business is. Basically, professional rigging companies move heavy things. And no, they don't move wooden desks or refrigerators. They move houses, office buildings, massive construction equipment, and the like. In short, they move the stuff that no one else has the tools, manpower, or experience moving.
If you're faced with moving an impossibly heavy object, you'll need to hire a rigging company to move it for you. There are some things you'll need to know before making your decision, and we've spelled them out below.
What a Rigging Company Does
A rigging company's business breaks down into three separate parts:
1. Load Movers
Load movers start the rigging process by lifting the load. They take care of calculating details and staging the move. This is your hands-on team doing the heavy lifting.
2. Truckers
Truckers transport the load from the old location to the new one. They determine the easiest route, how long it will take, and consider all safety factors.
3. Crane Operators
Crane operators place the load it its new spot. They lift it using a crane and place it exactly where it needs to be.
It's common for a rigging company to specialize in only one of these three parts. Depending on the scope of your move, it may be to your benefit to find specialized teams to handle each part to ensure the crew's experience. However, other companies take care of all three, which can be quicker and cheaper. It's up to you to decide which approach works best for your specific job.
Equipment, Experience, and Safety
Equipment, experience, and safety are monumental factors when it comes to choosing a rigging company. How can you expect someone to take care of a job if they don't have the right equipment to get it done? Having the right equipment is necessary for completing a successful move. How can you expect someone to take care of a job if they have no experience? You need to be certain that the company you choose has proven results, testimonials, reviews, something.
These two factors are supplemental to the final one, safety. Safety is of the utmost importance in the rigging industry. Without the right equipment and proven experience, you cannot trust the company. Don't cut corners to save money in this respect. Hypothetically, you want a company that moves mountains, even if you only need them to relocate a small hill. That way, you can be certain the job will be a piece of cake for them.
Some companies may claim they can move mountains, and they might, but the equipment they use comes from Hevi-Haul. Our rigging equipment doesn't just move mountains, we have products that move the world.
Contact us today or check out our catalog with the best rigging equipment in the industry.
Often times people want or need to move somewhere else, for whatever reason. Bigger space, more bedrooms, etc …
You can hire a team of movers to take all your belongings to a brand new home or location.
You may even be brave enough to rent a truck and do it yourself.
Or maybe, you love your house, but don't like the location. You dream of picking up your home, as is, and dropping it down somewhere else. With the help of Hevi-Haul's structural mover skates, this dream could actually be a reality.
Here's a quick step-by-step guide of how you could make this happen.
1. Get Your Home Inspected By a Professional
You are going to need to make sure your home is structurally sound enough to survive the move. Many local governments/municipalities can do this pre-move inspection, and they'll also tell you if it's legal. Depending on where you live, it may/may not be.
2. Choose Your New Location and Moving Company
Assuming the pre-move inspection goes well, you'll officially be able to start looking for new locations. The new location will also need to be approved by the moving company. They will be able to tell you if the new site is compatible with your current home. The moving company will also examine the structural integrity of the home to make sure it will go smoothly.
3. Determine the Price
Moving your entire home will not be cheap. There are many costs that add up, such as disconnecting all utilities to the home. This includes electricity, plumbing, tree trimming, railroad crossing, etc. Each move is different. You'll need to know the moving cost in general, which includes consulting, route planning, hiring a contractor, and more. You may come to find that the cost is no longer worth it.
4. Notify Those Required to Know About the Move
This includes getting all your moving and building permits for the old site, as well as hiring a contractor to prep the new site. You'll need to get a new address from the local government for the new site as well. Letting everyone know is  important because there are many factors that go into prepping the new site, such as constructing a new foundation, getting electricity and plumbing to the site, and making a driveway.
5. Go Over All the Details Again, and Then Again
You should always double check everything before you start the actual move. You'd feel very sorry if you found one very small detail that meant you actually can't make this move after all.
6. Prep Your Home For The Final Move
This includes disconnecting all the utilities and clearing out any small furniture that can fall over easily. Most of the time you can leave large furniture as it is. The moving team will take care of all this for you, but you need to be sure as well. They'll also clean out your basement or crawl space if you have one. Nothing can be left there. The team will also remove any trees or bushes that may interfere with the move.
7. MOVE YOUR HOME and BE PATIENT
The final step: move your home! This can be a very exciting experience, but it can also be very nerve-wracking. I mean, your house is getting lifted off the ground and taken somewhere else. However, with a team of experts, this process will go very smoothly as long as your patient. Something of this scale takes time and precision.
And there you have it! Moving your house in 7 steps. Who knew it could be that easy? Of course, it is not as easy as it may seem here. People have moved structures all over the world, but there's no structural mover skate more reliable than ours at Hevi-Haul.
Check out this video from when we helped move the Bosch Tavern!
This blog is a continuation of our previous blog, The Problems With 4 Skate Systems, except this one is where you find all the answers.
Let's first recap why using more skates is actually counterintuitive. The problem is in the points of contact and weight distribution. If you place an 8-legged table down on a really uneven floor, how many of the legs do you think will actually touch the ground? Maybe half, if that? This means the table will wobble in all different ways, especially when you try to put things on it. The same happens when you use too many machinery skates under a heavy load. Some of the skates will have to hold some serious weight while others won't be of any use at all. In this industry, less is more.
Here's Why Three Skate Systems Are The Solution:
If you want an explanation a mathematic explanation you can find that right here. Here is my best to simplified version of it.
Basically, a 3 legged stool will never wobble. Ever. How? If you disassemble the stool, you'll have 3 legs, and a seat. Take one leg and hold it in the air. It can move in all 3 dimensions: up/down, back/forth, and side/side. Now plant one end of the leg on the ground and keep it there. It can only move 2 dimensionally: back/forth and side/side, not up/down anymore. Now take 1 of the other legs, plant it on the ground, and connect the tops of the two legs together. They can now only move in 1 dimension, back/forth. If you take the 3rd leg and connect it to the other 2, then you remove the back and forth movement, which means it can't move at all anymore. As long as you stay within the stools center of gravity, you'll never tip over.
1 Skate In Front, 2 Skates In The Rear
This same concept applies to a load on a 3 skate system. As long as the load stays within the triangle created by the 3 skates, it won't tip over. Even on uneven ground. This is why a 3 skate system is so much safer when moving heavy loads. It removes the risk of skates slipping or failing, and it removes the risk of loads tipping over. The heavyweight keeps pressure pushing down on all 3 skates, and they'll never slip out because of friction force.
Even with the most unique jobs, Hevi-Haul can accommodate all your moving needs. Check out our machine skates or contact us so we can help you get the job done right.
Tips for Hauling Heavy Stones, Blocks, or Slabs
If you plan on hauling some heavy concrete slabs or heavy stones on your own, there are some things you need to know. Whether it's a simple backyard project or a massive landscaping job, moving heavy things is not a joke. Back injuries are serious and can leave you out of work for months. The easiest way to stay healthy and happy? Don't carry anything yourself. Here's how to avoid doing the heavy lifting.
Get Yourself a Dolly
One of the easiest ways to haul heavy objects is to use a dolly. A two-wheel dolly has such a low center of gravity when it's tipped back that it keeps the load stable throughout the move. Plus, you only have to lift the object a little bit to get the base of the dolly under it, and after that, it's a breeze. Many dollies also have straps to secure the load even more. Depending on the surface you are rolling across, it may be best to get inflatable wheels since they are so versatile. It also may be a good idea to just buy one since they are so handy, but you can easily rent one from a store near you as well.
Use Rollers or Skates
Many people get creative when moving and use a roller system with PVC or metal pipes to roll along the ground. This can work very well if you clear the right path and have an adequate surface to roll across. This concept is actually the basis for our very own Hevi-Haul utility skates. The main difference is, ours roll on axels and can carry an entire building, not just a concrete slab. Regardless, rolling the object on a skate is much easier than a DIY roller system.
Walk the Concrete Slab
Another option is to walk the heavy object along the path. A quick note: this can really tear up the ground that you walk it across since a lot of the weight of the object is being rotated on the ground. You start by grabbing one end and dragging it forward in front of the other end. Then you grab the end toward the back and drag it to be in front. This does involve a degree of lifting and physical effort, so always be sure to not push it and remain in control of the weight.
Flip or Roll the Heavy Stone
If you are on a slight slope, it can be fairly easy to flip or roll a heavy stone or another object. This involves the most lifting and is definitely the slowest moving method, but it can work in a pinch if needed. All you have to do is pick up one side of the object, flip it over, and repeat. This is another method that can damage your lawn, so if your goal is to beautify your backyard this is not a great option. Again, it also involves heavy lifting, so be sure to remember not to strain yourself over one heavy stone. It's not worth the risk.
If you need to haul heavy stones or concrete blocks, all of these moving methods can be very helpful. Of course, using a dolly or some rollers is easiest by far. Hevi-Haul makes the highest quality rollers on the market, and they can move way bigger objects than a few cinder blocks. Contact us today if you are looking for some roller skates to make any kind of move quicker and easier.
Moving Tips To Stay Safe and Stress-Free
Everyone knows moving can be a nightmare. It's stressful and time-consuming work, and it's not always easy on the body either. However, it's important to stay safe and stress-free.
Here are five quick tips to make your next move a piece of cake!
1. Get the Right Gear
If you really want to move something yourself, step #1 is to get the right gear. Ever seen a team of expert movers show up without equipment? Unlikely. So if you plan to do this move on your own, take this moving hack from them.
Something cheap and easy is a pair of leather moving gloves. These will provide a protective barrier between your skin and the sharp wooden corners of a heavy oak desk. Many moving gloves even offer extra padding in high-contact areas, as well as some adding tackiness for a better grip. There's nothing worse than losing your grip on a 300-pound dresser that's just waiting to flatten you at the bottom of the stairs. To make sure you do it right, get some gloves.
Other professional moving gear can include moving straps, dollies, and hand trucks. Depending on what you're moving, any or all of this moving equipment could seriously reduce the strain and stress of a big move.
2. Blaze a Trail
Before you even start moving anything, you need to blaze a trial. What you want to do is find the easiest, quickest, and safest way to get from A to B. You will really regret not planning when you are carrying a sofa upstairs and realize it can make that sharp turn out of the basement doorway.
You need to measure the objects you're moving, as well as any doorways or hallways you plan to use. Additionally, be sure you walk the path and clear it of anything on the ground that you could trip over to avoid injury.
3. Limber Up
Moving heavy stuff is as hard a workout as any. Make sure you stretch and limber up. Stretching before any kind of physical activity has been shown to reduce the risk of injury and improve athletic performance. It's also been shown to reduce stress, and if you're moving, this may be just what you need. It could mean the difference between throwing a housewarming party and throwing your back out.
Here are some easy stretches to get yourself warmed up before lifting anything heavy!
4. Fuel Your Body
A big move will likely build up a big appetite. Before you start moving, make sure to drink plenty of water to stay hydrated. It's also important to eat a little bit before physical activity to provide your body with energy. An apple, banana, or granola bar are usually quick and tasty food to fuel your body.
After the move, you'll have used a lot of energy. To recover from hard work, a well-balanced meal will really help, as well as some much needed R&R. Once it's all done, take a load off and just rest.
5. Don't Be a Hero
If it's too heavy, don't be a hero. Straining to lift something is the easiest way to hurt yourself and those around you. Not to mention, you won't be able to move much of anything if you're injured. An easy way to judge is this: If it feels heavy, it is too heavy.
If you strain just to pick it up off the ground, it's unlikely you'll be able to maintain that grip up or down a flight of stairs. Use some of the recommended moving equipment or get some help instead.
Instead of Moving Alone, Get Some Help
Sometimes there are things we just can't do alone, especially moving. Do yourself a favor and get some help. That could either be from friends, family, neighbors, or local professionals. The mental stress from a move is enough on its own. You don't need to add physical stress too. Follow these steps and make that move safe and stress-free.
Heavy Machine Safety: Avoiding Problems Through Proper Training
As of 2017, more than 18,000 injuries occurred in the U.S. due to machine safety accidents. Obviously, working around heavy equipment requires a level of respect for these large machines.
Not being attentive or adhering to safety protocols can lead to injury or even death. And since each situation is different, accidents can happen to both seasoned veterans and trainees. And injuries aren't the only issue. Accidents are costly and can lead to multiple other problems in the workplace, such as lawsuits.
To learn more about how to prevent the misuse of heavy machinery, read on.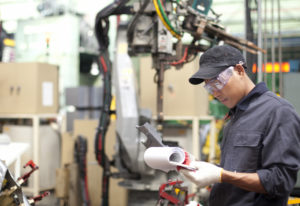 Use Protective Gear
Every person working around heavy equipment should wear protective gear.
Operating heavy machinery is not the only accident that can occur. Sometimes, debris or other materials are launched from the machine. It is important to stay alert but also to wear gear such as:
Hardhats
Safety goggles
Protective gloves
Sturdy footwear
All gear and clothing should be highly visible. This will lessen the accidents that may occur due to poor lighting and blind spots.
Use Mounting Machines
According to the Bureau of Labor Statistics (BLS), slip and fall injuries are the third largest cause of workplace accidents.
The Three-Point Contact system is a common safety protocol method to use while working with heavy machinery. This simply means three of four limbs remain in contact with the vehicle or machine at all times.
Essentially, you attempt to make a triangle of anchor points (limbs). Doing so will prevent slips and falls. Remember:
Watch where you're stepping, as some rails can become slippery.
Never try to mount or dismount while the equipment is moving!
Require Training
If you don't have adequate training on a specific machine or device, you should not be operating it. It sounds simple, yet many machine accidents occur due to improper training. Not only are people putting themselves at risk, they also could harm others in the process.
Those unaware of how to move a house should receive proper training from experienced professionals before the project. An untrained worker could not only be injured but could end up damaging equipment.
Use Effective Communication
Preventing accidents in the workplace can be aided through a well-organized communication system. Assuming someone's intentions can be dangerous. A good way of communicating is using two-way radios or hand signals.
The status of an operation can change by the minute. Effective communication is a must, even if it seems tedious.
Mind Load Maximums
When working around heavy equipment to move objects, be aware that there is a load maximum. Loads that become too overbearing can cause equipment to malfunction.
Rollovers of heavy machines and vehicles do happen and can lead to catastrophic results. Management needs to train workers for each machine, and load maximums should definitely be a part of equipment safety protocol.
Machine Safety and You
We understand that machine safety is a significant concern. This is why it is important to communicate effectively and to wear protective gear when operating machinery and moving equipment.
And don't forget to invest in the best equipment. Transporting loads can become a problem without the best machine skates around. Browse our product catalog and choose the perfect fit for your project today!
3 Tips to Improve Heavy Equipment Maintenance
If your business uses heavy machinery, then you know how difficult heavy equipment maintenance can be.
If something goes wrong on a large machine, it can be out of commission for a long time due to the cost and length of repairs. You want to ensure that, as much as possible, this doesn't happen. So, read on to learn three ways to improve your machinery maintenance.
1. Preventative Heavy Equipment Maintenance
Your heavy machines will always need maintenance, but it is much better to get ahead of maintenance problems rather than risk being too late.
Committing to a preventative maintenance program will help you to get ahead. True, it's a bit of a policy shift from the "if it ain't broke, don't fix it" mentality, but in the long-run it will be better for your machines.
With preventative maintenance, maintenance never stops. That means taking care of little issues with your machines as they occur. That way, none of them become big issues later on.
Ongoing preventative maintenance needs more diligence and attention than other methods. For instance, equipment inspections are necessary, and testing each machine's performance is crucial.
The biggest benefit is that if you are on top of your preventive maintenance schedule, the only major repairs you should have to do are typically the result of accidents. And, by taking care of your equipment, you will extend the life of your machines and find that they run at full capacity for much longer than you anticipated.
2. Add Lubricants
Another important part of machinery maintenance is adding and testing lubrication.
Properly applying the right lubricants to a machine eases any friction or tension that may be happening between moving parts. More importantly, regular lubrication keeps your equipment running as smoothly as possible.
Our suggestions:
Lubrication should be near the top of your list of maintenance priorities.
During your regular checks, always look for buildup and other sources that prevent moving parts from working well.
Test and check your lubricants. If you are using fluids that contain particles or other contaminants, you could be doing major damage to your machine.
3. Use Good Skates When Moving
One of the best ways to prevent damage to your heavy machines is to use high-quality skates.
There are many different kinds of skates, all suited for particular types of machines. Not sure which type of skate is right for you? Take some time to browse our catalog—we have a large selection of different types and styles. 
Purchasing skates for your heavy machines will ensure that they have safe and smooth transitions from place to place. And you will greatly reduce the risk of damaging your machines.
Need Help Moving Your Heavy Machinery During Maintenance?
It's not unlikely that your machinery maintenance program will require moving heavy equipment around. If that's the case and you need a safe, reliable way to move your heavy machinery, contact us today. We can help you find the right skates for your needs.